Courtesy Parmer Medical Center
Release Date: November 17, 2010

Venhaus Honored at Reception
Parmer Medical Center honored Mary Lou Venhaus at a retirement reception on November 2nd at the hospital. She completed 37 years of service to the community via her employment at PMC. Serving in multiple positions over the years, Mary Lou, a Registered Nurse, always managed to find a way to incorporate her nursing skills with whatever the hospital needed at the time. Mary Lou and her husband Greg will be moving to Amarillo in January once their new home is completed.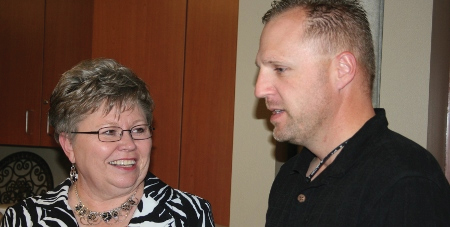 Pictured: Mary Lou and Lance Gatlin, Hospital Administrator.