Courtesy Parmer Medical Center
Release Date: November 03, 2010

Scholarship Recipients Announced
Parmer Medical Center announced two winners of the Northwest Texas Hospital Association Scholarship Program on Friday. Recipients were Briar Reyes and Kayla Klinger, both current employees of the hospital and attending nursing school. Ms. Reyes is attending Clovis Community College and Ms. Klinger attends West Texas A&M. Both are obtaining their degree as a registered nurse.
The new scholarship program was sponsored by the Northwest Texas Hospital Association. Awards were granted for $500 each with a local match of $500 from the Parmer Medical Center Board of Directors. Recipients had to be seeking allied health careers and desire to work in small and rural acute care hospitals. The ladies were recipients of two of five scholarships awarded in the 42 county district. PMC extends its congratulations to these two outstanding ladies.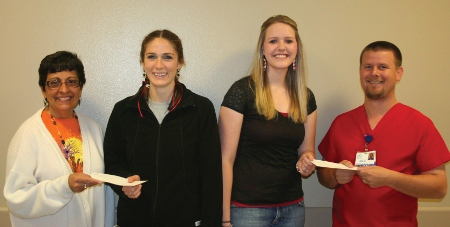 Pictured: Carmen Putman, Director of Nursing; Kayla Klinger, Scholarship Recipient; Briar Reyes, Scholarship Recipient; Devin Carpenter, Assistant Director of Nursing.