Courtesy Parmer Medical Center
Release Date: Oct. 4, 2013

PMC & FHS Team for Student Shadowing Program
Parmer Medical Center and Friona High School are pleased to announce a new student shadowing program to promote health care careers to high school seniors.  High school seniors can enroll in the program which will introduce the students to the various departments within the hospital. 
The students will be assigned preceptors and guides who will acquaint the students to positions within their specific departments.  The students will shadow staff in the various departments, moving from one department to another on a weekly basis.  Department guides will explain the various career opportunities available within their department, including education requirements.  By the end of the program, the students will have been exposed to dozens of job opportunities within the medical field.  The opportunities may include certification programs, technical school programs, and formal medical professions along with medical business careers.
PMC hopes that the program will generate interest in the medical field from our local youth.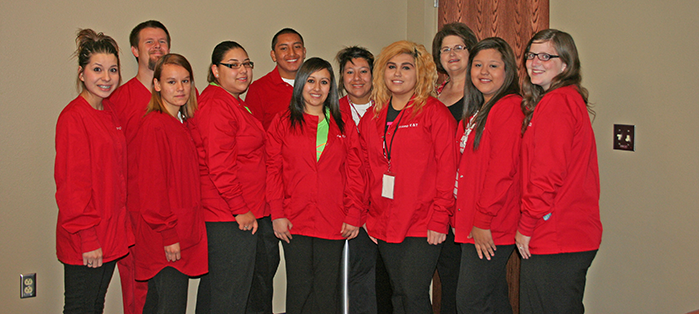 Pictured, Front Row L-R:  Marcella Mendoza, Rosa Calvillo, Bailee Braillif, Brandi Ramos, Jakelin Sanchez, Karina Tafoya, Teri Reed; Back Row L-R:  Devin Carpenter, Director of Nursing, Cesar Huetera, Liliana Amerzcua, Patsy Allen, FHS Instructor.