Courtesy Parmer Medical Center

Release Date: April 19, 2011
Lab Professionals Get Results
Clinical laboratory professionals are key members of today's health care team, and your quality medical care depends on them. Every day, nurses, physicians, and other healthcare workers rely on laboratory professionals to perform tests on blood or other body fluids, interpret the results, and help provide answers for a complete picture of a patient's health. Without this precise and valuable information, medicine would simply become guesswork. Approximately 70% of a patient's diagnosis is determined from the accurate answers provided by the laboratory.
Laboratory professionals work in a variety of settings, from hospitals and doctors' offices to research laboratories and public health laboratories. Whatever the setting, these professionals are by your side, working to provide answers and guide cures.
April 24-30, 2011, please join these dedicated professionals in celebrating National Medical Laboratory Professionals Week and their vital role in protecting and promoting your health.
Parmer Medical Center would like to invite you to help us celebrate National Medical Laboratory Week with our laboratory professionals Tonya Lookingbill, Lab Manager, Leah Onod and Sunette Lawas, Medical Technologists, Brandy Hernandez, Phlebotomist, Andrew Hoot, M.D. Pathologist, and Carol Jackson, Technical Consultant. 
The lab staff will be providing tours to the public on Tuesday April, 26th from 2-4 pm, come take the "What happens to my sample once I leave the lab" tour. The lab staff is also sponsoring a food drive that week to support our local food pantry in Clovis which helps the Friona Christian Ministry. If you have non-perishable food items you wish to donate please bring them to the Parmer Medical Center Laboratory or call Tonya 250-2754 Ext. 187 or by cell 346-2738 for a pickup.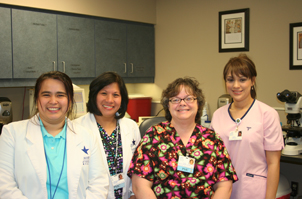 Pictured: PMC lab staff (L-R) Sunette Lawas, Leah Onod, Tonya Lookingbill and Brandy Hernandez.