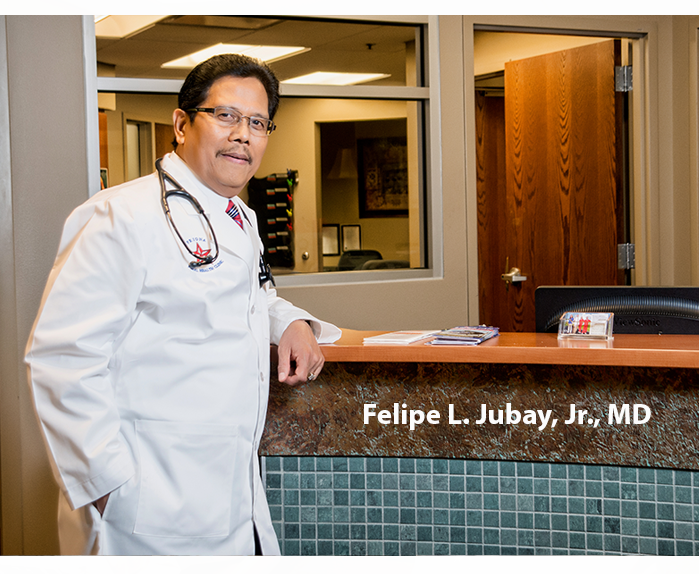 Felipe L. Jubay, Jr., MD

Parmer Medical Center is proud to have Dr. Felipe Jubay as a member of the PMC healthcare team. Dr. Jubay moved here from Las Vegas about twenty years ago with his lovely wife Dita. Although the landscape is much the same (dry air, heat and lots of dirt) the bright lights and busy, busy city life are a far cry from Friona, Texas. So, why Friona? He says he likes being here "because the people are down to earth and friendly, the work environment is nice – the providers work as a team, AND, I can get to work in less than 2 minutes!"

Dr Jubay and Dita have two children and two grandchildren (and one more on the way!). Some of his proudest moments in life have been the birth of his two daughters and two grandsons, and, of course, his marriage to Dita. Dr Jubay is also proud to be the recipient of several awards in his career including Physician of the Year in 2004 by the Panhandle chapter of the Texas Academy of Family Physicians and, in 2013, Preceptor of the Year from the Texas Tech University Physician Assistant Program. Besides winning awards and traveling to play with the grandkids, Dr Jubay likes music – he particularly enjoys singing and dancing.

As a physician, Dr Jubay encourages his patients to" Take their medication as prescribed - never stop them or try to adjust them on their own and to make sure you return for scheduled blood tests every six months or as directed." Never hesitate to come in to be checked when you are not feeling well and get your annual flu and pneumonia shots!

Dr. Jubay truly enjoys life in Friona. "Dita and I are proud to say we are so glad we chose to live in Friona. It was a hard decision at the time, but it was the right decision. We have been here over twenty years!" We are looking forward to the next twenty years, Dr. Jubay.